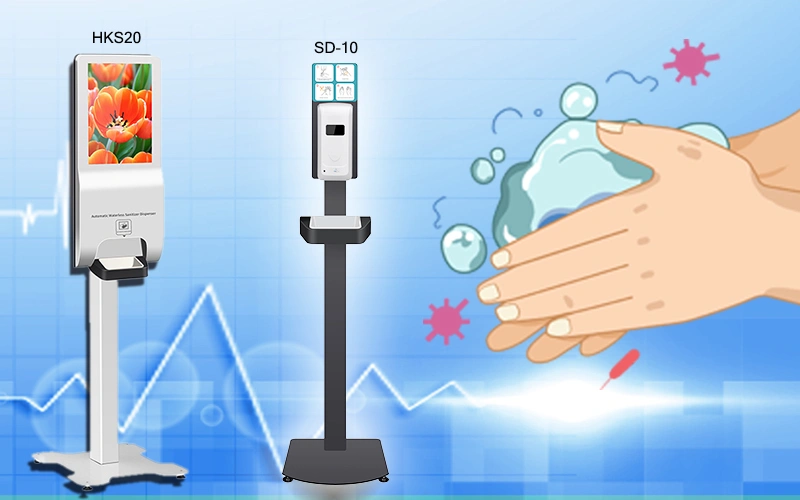 Since the outbreak of COVID-19, safe and effective disinfection has become a major problem in hospitals, schools, supermarkets, governments, airport stations and other public places. In response to the global spread of COVID-19, HCCTG has launched two new products SD-10 / HKS20-mobile hand-washing and disinfecting machines for the prevention and control of public outbreaks, have the advantages of intelligent induction, contactless and avoid cross-infection, and escort for hand disinfection.
Automatic Hand Sanitizer Dispenser SD-10: Infrared automatic induction, automatic spray when reaching out, with ultraviolet disinfection function, contactless, safe and hygienic. Movable floor-standing or wall-mounted installation, easy to use, can be placed in the waiting hall, elevator room, hospital, school, government agency entrances, etc..
Advertising Machine & Automatic Sanitizer Dispenser HKS20: with 21.5-inch LCD screen for custom advertising, Android operating system, built-in automatic disinfectant dispenser, you can dispense hand sanitizer or hand sanitizer without touching to avoid any cross infection.
The contactless automatic hand sterilizer brings great convenience to people's health disinfection, reduces the contact rate,is very convenient and great for safe, and great for the comprehensive prevention and control of epidemics.