Shenzhen HCC Technology Co., Ltd.
E-Mail:sales@szhcct.com
TEL:Tel: +86-755-86655162
Fax:0755-86069640
Address:Rm. 402, 4/F, Bldg. 7, Changyuan New Material Port, No. 2 Gaoxin C. 1st Ave., Yuehai St., Nanshan Dist., Shenzhen 518057, Guangdong Province, P.R.China
Product Description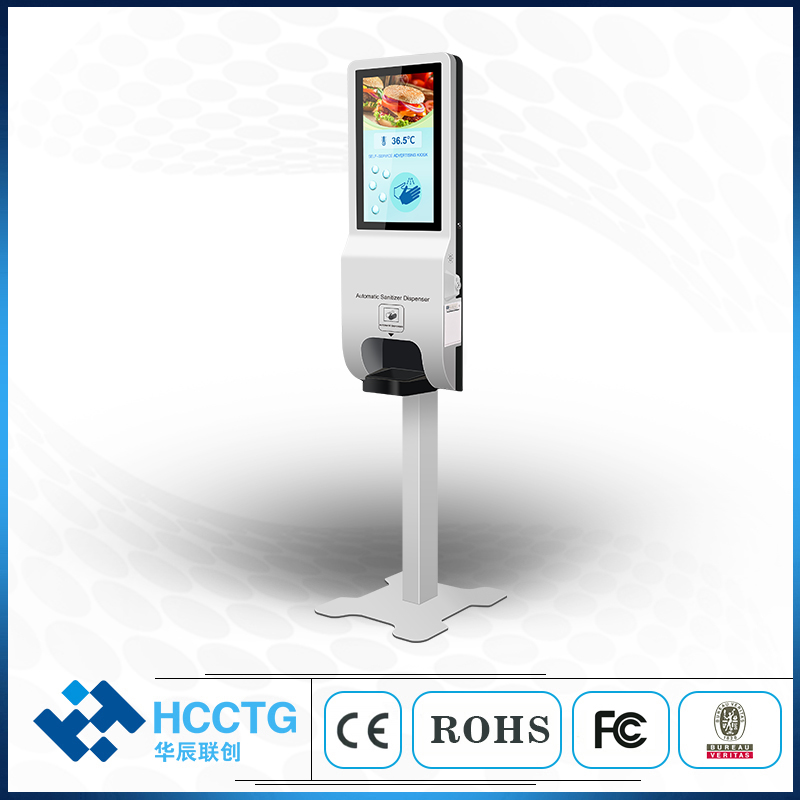 General
The dispenser terminal integrates functions of advertising and waterless sanitizer spray dispensing to prevent from human direct contact so that virus won't spread human by human. The advertising function extend the advertise broadcasting to people who use waterless sanitizer spray. The terminal perfectly be applicable for public situations, such as toilets, shopping mall, cinemas, theatre etc.
Feature
To support dual LVDS displays; To support 2K HD video playing;

To support HDMI channel with 4Kx2K @ 60Hz video input, FHD displaying;

To support portrait/horizontal swift for videos / graphics / texts; To support full display CVBS output (externally optional);

To support Ethernet / WIFI / 3G/4G (optional) connections and WOE function;

To support dual UART connection (one is TTL and the other is DEBUG);

To support timing switch function;

To support TF card extendable with max. to 128GB; To support mobile phone screening function;

Infrared thermometer and receipt printer functions are optional available.
Specification
CPU

ARM Cortex A53 Dual Core, 64bit, 1.2GHz

Chipset

Hi3751 V310

GPU

Mali-450 Quad-Core 3D GPU (supports OpenGL ES 2.0/1.1/1.0 OpenVG 1.1)

RAM

1GB DDR3 as standard

Storage

8GB

OS

Android 4.4.2

Display

21.5" TFT LCD, 1920 x 1080p, LVDS

Video Input

Format

480i, 576i

Video System

PAL / NTSC / SECAM

Video Level

1.0 VP-P ± 5%

HDMI

480i, 480p, 576i, 576p, 720p, 1080i, 1080p, 4K2K

UART

TTL

USB

MPEG 1/2, H.264, VC-1, MPEG-4 up to

FHD (1920x1080), RM/RMVB up to 720P

TF-Card

Automatic hand sanitizer

Sensing method

Infrared auto-sensing

Sensing range

0~12CM

Response time

25ms

Power supply

4 pieces of AA size battery(Non rechargeable),

(Or DC6V power supply (optional) can not use with battery)

Battery working time

10000h

Switch

Switch keys

Installation mode of liner

Independent assembly, easy to replace and clean

Liquid capacity

1000ml

Liquid pump

Spray (also supports Soap / Foam)

Life 500K times

Spraying volume

1.2ml(Spray)

Opening method

Open with safety key

Liquid exchange

method

Manual open cover to replace liquid

Shell material

Environmental ABS materials

Audio Input

CVBS Audio (L/R RCA input, 0.2 ~ 2.0 VRMS)

Audio Decode

Dolby Digital, Dolby Digital Plus, Dolby TrueHD, DTS, DTS-HD,MPEG L1/L2, MP3, AAC_LC, HE_AACV2, LPCM, APE, FLAC, OggVorbis, ARM-NB, ARM-WB, G.711(u/a)

Video Output

CVBS (format: 480i, 576i; video level: 1.0VP-P±5%)

Audio Output

CVBS Audio

L/R RCA Output (250mVRMS ± 10%)

Frequency Response

100Hz ~ 15KHz @ ±3dB (0dB reference signal at 1KHz)

Max. Output Power

2 x 8W (8ohm) THD+N < 10% @ 1KHz

Power

DC 12V (DC input)

3.3V / 5V / 12V (to panel)

Standby Power Consumption < 0.5W

Connection

WIFI

802.11 b/g/n, built-in module optional, need ANT

Ethernet

10/100M auto-identification and DHCP, USB driver

Data Network

3G/4G

COMB Filter

3D

Deinterlace

3D

Work Temp

-10 ~ 55℃

Storage Temp

-10 ~ 60℃

Printer (optional)

80mm thermal printer with auto cutter and security lock

Infrared

Thermometer (optional)

Measurement Range: 25℃~100℃

Measurement Precision: ±0.2℃

Measuring Trigger: On-Touch Sensing

Certificates compliance

CE/ROHS/FCC